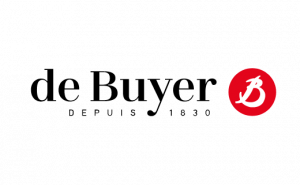 Established in 1830, de Buyer designs and manufactures French-made kitchen utensils for cookery and baking for professional and discerning amateur chefs. Its teams work with gastronomy trades in order to come up with utensils with the design and technical features that meet their requirements.
92.97%

Percentage holding

France
(Vosges)

Native country

€56.7 million

Sales in 2021

300

employees

+ than 50%

of sales outside France

8 July 2015

Investment date
More than 3,000 products on the market
de Buyer offers a very wide range of products, which is vital in gaining legitimacy as a supplier among chefs who are looking for specific utensils. Renowned for its ability to innovate, the company constantly adds to its offer and regulary files patents.
In 2016, de Buyer also took over the French company Marlux. Founded in 1875, Marlux specialises in the design and manufacture of pepper and salt mills.
Customer diversification
de Buyer has worked exclusively for professionals for a long time and is now a benchmark in this segment. The company has also partnered with many prestigious training schools in France and abroad.
Since 2002, de Buyer has also marketed its products to home chefs.
Dynamic international development
de Buyer exports its products to 95 countries through subsidiaries, local distributors and agents.